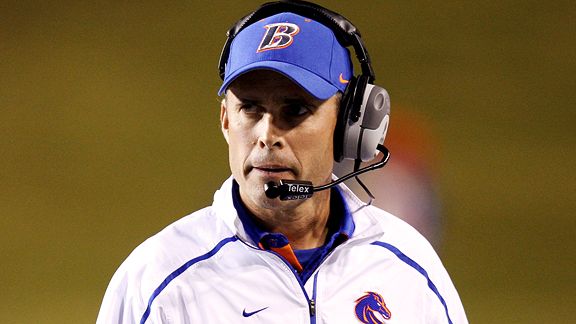 Boise State and the Mountain West seem like such a natural fit, don't they? Both parties have what the other is looking for: the MWC would give Boise the big-league home they deserve, and Boise would give the MWC one more premiere program to put it over the top in it's fight for BCS inclusion. From time to time, this here blog has lobbied for the Broncos to be given an invitation to the MWC, and why not? Patterson vs. Petersen I & II were both pretty epic- think if it was an annual showdown!
It may not be meant to be, however, as Brian Murphy of the
Idaho Statesman
pointed out
last week. Just as TCU's future is uncertain with the conference realignment gong ringing loudly in Big Tenland, so is Boise State's. Could they end up in an expanded Pac 10 or Big 12? Will they end up in the MWC as they've wanted for a while now? Will they end up as a replacement part in a BYU/Utah-less MWC?