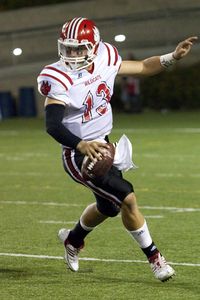 ...because it looks like he's recruited himself quite the meathead.
Tyler Shreve
, the 6'4", 210lb quarterback from The Redlands, California that signed with the Utes in February,
has been expelled
from his high school after fighting his baseball coach.
If Utah honors his scholarship, which from reading the article it seems as if they still want to, I'm sure Tyler will thoroughly enjoy his trips to Amon Carter with myself, Sir Wesley Willis and WWHD sitting just behind the visitors' bench...