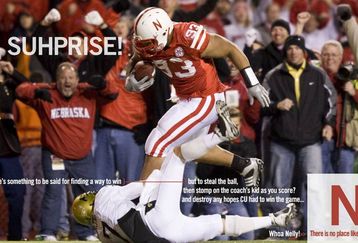 By 11:00 PM Saturday, Colt will only know Ndamukong Suh as "Sir"
After 12 solid weeks of football, we can finally sit back, relax, and make the Metroplex Lincoln South for three hours on Saturday night. Pretty wild that you have to go all the way back to September 5th to find a Saturday without Horned Frogs football, but we better get used to it for another month. Fortunately the weather has turned shockingly cold this week, so if it stays that way, at least we won't have to go outside and do anything manual on the empty Saturdays between now and the BCS season. No reason to think ahead to the dark days without college football just yet though – it's championship weekend and there are even two additional unofficial championship games in the Big East and the Pac 10 to tide us over until the SEC and Big 12, so rejoice, football fans, this is the most exciting weekend of the season! The Big East and Big 12 varietals will impact us the most, but that doesn't mean we can simply ignore a little Thursday Night Civil War action, so let's get to it.
#16 Oregon State @ #7 Oregon (-9.5). 8:00 PM Thurs. ESPN. In a wacky twist to the assumed results in the Pac 10, perennial underachievers and in-state rivals Oregon and Oregon State meet in a game that will serve as the officially unofficial Pac 10 Championship. From the outside looking in, you might think, "yeaaah, take that USC, you sundrenched pieces of trash with your T shirt celebrity fanbase, and you too, Cal, with your leftist, tree sleeping, vegan dickhead pseudo-fans" but, in truth, the state of Oregon is basically just an extension of Northern California – they even make wine to prove it – so there really wasn't much of a battle won here. The only good news is the media has finally seen through Pete Carroll's smoke screen of awesomeness and recognized him for the arrogant prick that he is, although that all goes out the window assuming USC returns to their usual spot atop the Pac 10 standings next year. But oh yes, what about this game?
Both teams feature tiny running backs that somehow snuck out of the state of Texas in LaMichael James (Duck) and Jacquizz Rodgers (Beaver). Both teams score a lot of points, with OU outscoring OSU by five points a contest with 37. Both teams also put a lot of yards on the board, but the difference is how they do so. Oregon isn't going to mind bang you on what they do – they run the ball, and the run it very, very well. In fact, they run it so well that they've managed to keep a 9-2 record despite their passing offense being ranked 95th. The problem they're going to run into tonight is that Oregon State has an extremely talented run defense, only giving up 98 yards per game which is good for 10th overall.
On the other hand, Oregon State offensively does their passing thing a lot more effectively than the run, but they still have the ability to run the ball quite effectively with Rodgers. Oregon's run defense also isn't the strongest – just ask Toby Gerhardt – although they are quite good at slowing down the passing game. So basically, each defense is good at stopping the other team's offensive strength, but it'll be a shit show if one offense can crank up their weakness.
So it would seem that the intangibles are going to make the difference in this one, namely Autzen Stadium and Revenge. Naturally, these two go in opposite directions, making my point moot, but hear me out. Oregon's Autzen Stadium is commonly mentioned as one of the best home field advantages in college football – apparently the structure makes 50,000 fans sound like twice that and where it sits can bring in very strange weather patterns that sunny Pac 10 teams aren't prepared for. Since they play in the same state, though, I wouldn't expect this to be a problem for the Beavers.
Revenge-wise, this one obviously goes in favor of the Beavers. They came into last year's Civil War leading the Pac 10 and a win would've sent the school to their first ever Rose Bowl… and they got completely blown out. Don't think they want to let it happen twice. Oregon is also the big, rich brother to Oregon State's little brat, so they always have a chip on their shoulder. I think Oregon State can slow down Oregon's rushing attack enough to keep this one close, and if Jacquizz Rodgers can get it going for the Beavers, this one could cause Phil Knight to create a whole new line of terrible uniforms to distract the Ducks fanbase from the overrated product they continually field.
#5 Cincinnati @ #15 Pittsburgh (+1.5). 11:00AM Saturday. ABC. It always seems like the Big East scheduling gurus hit home runs with their end of season match ups, because the good teams all come together at the end to decide who wins the thing. This year is arguably the best job yet, although I'm guessing they were hoping West Virginia hadn't knocked off the Panthers last weekend, killing a bit of the momentum this game had built. Still, whoever wins gets the Big East's Automatic Bid, and if Cincy is to lose, there's still a chance they could sneak in past Boise as the last at large. However, if Cincy DOES lose, there's nothing between us and a National Championship assuming UT loses, which I definitely do not assume. It's conflicting because, if UT wins, then we'll want Cincy to win to keep Boise in it so the non AQs can get some clout; if UT loses, then see above. Unfortunately, this game is played 8 hours before the Big 12 kicks, so it looks like it's Panthers all the way for a Frog fan.
The most interesting thing to me about this game is the spread. 1.5? Does John Kerry's Ketchupy Wife's Stadium really give them that much of an edge? The Panther's pass defense is pretty stout, only giving up 207 yards a game and 17.7 points total, but my god how average their offense is! Sure, they score 32 points a game, but they're extremely middle of the road in yardage, in comparison to Cincy who has Robo-QB Tony Pike and the fourth ranked offensive attack in college football. Not to mention backup Zach Collaros who can fill in in a pinch if needed. This season, Pike has passed for 23 TDs and only 3 INTs despite missing several games with a shoulder injury. Also, WR Mardy Gilyard is an absolute beast – for a good read, check out his story on SI.com. Dude lived in a car the first half of college. The biggest thing in Pitt's favor is that their defensive front line is pretty spectular and leads the NCAA in sacks and if they are able to put pressure on the Cincy QBs, there's little chance they score their season average.
The biggest advantage I can see for the Panthers is standout RB Dion Lewis going up against Cincy's mediocre run defense, but if this one somehow turns into an offensive slugfest, there's no chance Pitt can hold serve. The only way Cincy loses its way in this one, other than Pitt's D-line dominating the Bearcats O-line, is if the team gets too caught up in the rumors of Brian Kelly to Notre Dame. I've read lately that he is leaving Cincy early and coaching the Irish in their bowl game – a story that I'm calling serious bullshit on, but it's out there nonetheless. Even if Kelly does take the ND job, I don't think he quits on the school that spring boarded him to that job.
#1 Florida vs. #2 Alabama (+5.5). 3:00PM Saturday. CBS. As some would say, this is the "real" National Championship, and, honestly, who among us would disagree? TCU isn't getting into the official one without some serious help, so may as well throw some more dirt on that contest, and it's not like we're pulling for Texas anyway. In last season's meeting, Bama was the team who came in ranked #1 overall and looked to bitchslap Tebow and the Gators only to have said bitchslap returned in epic fashion. I would expect nothing less than an equally exciting game in this one. Both teams come into the contest having won their in-state rivalry games, although the Tide needed the most clutch drive of the season in all of college football to win while Florida dominated an overmatched Seminoles team.
On paper, this one looks remarkably even. The defenses are almost identically dominant, while the offenses depend 110% on the ground game to be successful. Both teams have rolled through their schedules with only one major blip – Bama/Tenn and Fla/Ark – to quell any talk of outright dominance. Interestingly enough, Florida QB Tim Tebow, despite all of the slurping, is basically the same passing QB as Bama's Greg McElroy, each having thrown 4 INTs vs 17 and 16 TDs, respectively. Obviously Tebow scores a LOT of rushing TDs, albeit 1 yd dives on the goal line, but he's no match for Alabama's Mark Ingram. The problem? Ingram left the Auburn game with a hip injury and did not return. He will play Saturday, but how effective will he be? For the season, Ingram has 1629 yards and 14 TDs and was the Heisman frontrunner until last weekend; If Colt McCoy and Toby Gerhardt weren't born, this would also be a de-facto Heisman playoff. I honestly have no clue how to pick this one, but I'm going Tide for two entirely arbitrary reasons: one being Tebow fatigue and how it's someone else's turn to hog the spotlight, and the other being if we somehow got the loser in the Sugar Bowl, Bama has already been beaten down by the MWC and now it's the Gators turn. Of course, I'd gladly take Bama in the Big Game, but I'm not getting ahead of myself. Anyway, you owe it to yourself as a football fan to watch this one because it should be marvelous.
#10 Georgia Tech vs. Clemson (+1.5). 7:00PM Saturday. ESPN. In the most poorly timed game of the weekend, the two loss Georgia Tech Yellow Jackets have a championship rematch against the FOUR loss Clemson Tigers. The ACC will call it parity; the MWC calls it "automatic qualifying status bye-bye-o in 2014." No one was going to watch this game anyway seeing as how it directly competes with the Big 12 game, but with both teams losing to their SEC in-state rivals last weekend, they went ahead and sealed the deal. Way back in early September, Georgia Tech took a 24-7 lead on the Tigers before hanging on the win 30-27 and actually going down 27-24 at one point. Did Georgia Tech still have over 300 yards rushing? Yes, yes they did, and this is what is going to make this game so fun to watch – both teams love to run the ball, and both teams can't stop the run! In fact, they give up the exact same amount of run yards per game with 135. Look it up. The big difference here? Clemson will at least toss a pass play in there now and again while GT is going to run the ball even if they're running into a brick wall like they were last weekend against Georgia.
Still, while GT ranks second to last in passing offense in the country, Clemson only checks it at a meager 80th, so I wouldn't expect QB Kyle Parker to win the game for them. Really, the only way I'm picking this game is based on the number of playmakers – Clemson has CJ Spiller; GT has QB Josh Nesbitt AND RB Jonathan Dwyer. Two is better than one. Plus, GT has already beaten them once, so why can't they do it again? Do I want GT to win? Nah, but only because I want Clemson in the Orange Bowl so we don't have to go there – I have this weird thing against Miami, don't ask. But, I'm not watching even a milli-second of this game, so why am I even bothering to worry about analyzing it?
#3 Texas vs. #22 Nebraska (+14.5). 7:00PM Saturday. ABC. Oh. Oh man. So I'll say it before and I'll say it again – my favorite teams on any given weekend are the Frogs and whoever is playing Texas, with a childhood nostalgia Arkansas thrown in there as well, but this Saturday takes that to a whole new level. Now, I confess, I've faltered in my hate every now and again, namely the 2005 Rose Bowl where it just didn't feel right pulling for either team so I only rooted for injuries. However, there's no way I'm not sitting on my couch or infiltrating a predominantly UT friendly bar and whooping it up like I was born and raised in Corn Country because the Huskers are my favorite team of all time this weekend. Would I go for them anyway? Well yeah… but with national title implications on the line for TCU, I'm taking no prisoners. As I've been saying, I really have very little hope that Nebraska can win, or even keep it within two TDs for that matter, but just for the sake of optimism, I'm going to spin this like you wouldn't think possible.
The biggest advantage the Huskers have going is, obviously, their defense. Nose Tackle Suh – not touching that first name – is in the running, although a longshot, to become the first defensive player since Charles Woodson to win the Heisman and, as his main competition, I'm pretty sure Colt McCoy must look like a filet mignon to him. The Huskers rate pretty high statistically in all of the major defensive categories, most notably their third ranked scoring defense at 11.1 points per game. Sure, Texas has a great offense and an even better defense, but I don't think anyone is too afraid of UT's unsettled situation at running back.
Colt McCoy has been lighting up opposing defenses this season to the tune of almost 300 yards per game, but he's never been raped by a large Samoan man either, so let's see how that toys with his psyche when he's on the turf a few times. The best defense Texas has faced to this point is Oklahoma's, and they only scored 16 points as Golden Boy struggled immensely. On the other hand, Nebraska picked off Oklahoma five times while holding the Sooners to a field goal and won the game. The Longhorn Elite will get in your face and berate you about how awful Nebraska's offense is – noted – but, with a defense like theirs, who needs an offense? Landry Jones may be no Colt McCoy but hey, they both put their pants on one leg at a time, am I right?
Besides, the Big 12 North has been slapped around long enough and once they reach this point, they've been known to throw a wrench into the situation – see 2003. Also, this game may be in Texas, but Nebraska fans travel a lot more impressively than you'd imagine, so while the game will still be mostly pro-Texas, don't expect it to be a complete Orangewash. Texas has been known to get distracted – see: losing a conference game to an underling like Kansas State most years, last week against aggy – and seeing as how Mack has pretty much already awarded them the National Championship, why should they even play the game? Besides, if they lose, he'll asterisk it to them anyway, right? Win Win! Nebraska' offense hasn't shown up very often but I think they realize they've made their defense do enough this season. It won't be pretty, but Nebraska rattles Colt, forces a couple of turnovers, and wins this one. Count it!
So, there you go folks – Championship Weekend '09. Run all of your errands tomorrow, stock up on beer and ice, send your wives and girlfriends to the mall and get Wingstop or Pluckers on speed dial and settle in because it's going to be a glorious afternoon. Go… Huskers!