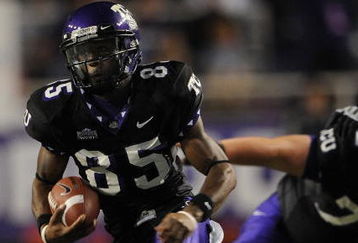 The Collegefootballnews.com
Midseason All-American Team
features two Horned Frogs on the 1st Team:
DE - Jerry Hughes, Sr. TCU
Everyone knows all about him after last year, and everyone does everything possible to block the All-America pass rusher, and nothing is working. Hughes has gotten stronger and even quicker since last year, and even though he's occupying more blocks than last season, he's still producing at a high level week after week.
PR - Jeremy Kerley, Jr. TCU
Others are averaging more per return, but Kerley has been more of a hammer-dropper. His punt return for a score against Colorado State was one of the most brilliant plays of the first half of the season, and he all but ended the SMU game with a return for a score. He has to be avoided at all costs.