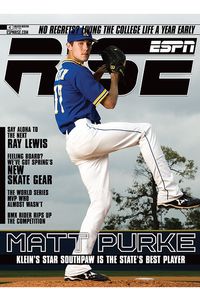 The Texas Rangers have until 11:59pm on Monday to sign their 1st round pick, Klein left-handed pitcher Matt Purke. While a good number of you Spitblood readers are Rangers fans who would like to see the club add another quality pitcher (I say 'another' because they all of a sudden actually have a few!), you'd probably love to see him
not
sign by the deadline and instead play for the college he signed a letter of intent with...TCU.
Before you really get your hopes up, I should say that I consider the odds stacked against the Frogs on this one. A friend of Spitblood recently spoke with a representative of Purke's, who said that "barring a disaster, Matt will be signing with the Rangers". After all, what 18 year-old kid from Texas is going to turn down $5 million (which is rumored to be what the Rangers are offering) from Nolan Ryan? But then again, Purke was asking for something in the neighborhood of $7 million, and has a bit of leverage in that, because of his age, he'd be draft eligible again after just two college seasons (instead of the usual three). Also, at least one anonymous MLB scouting director has named Purke as the high school draftee most likely to pick college over signing a contract, according to ESPN's Jason Churchill.
Two unknown factors in determining where the two sides will meet are A) the extent of Tom Hicks' and the Rangers' financial woes and B) Purke's level of desire to have the college experience and a chance to play in the College World Series. Word is that Purke is slated to attend TCU orientation on Monday(deadline day)...if the TCU Admissions Department has any brains at all, they'll put him in an orientation group with nothing but the hottest incoming freshmen tail.
Like I said, if I had to wager, I'd put my money on him signing. But it's definitely something to keep an eye on, because the addition of Purke to the Frogs' already outstanding pitching staff could make TCU a very dangerous team next spring. And you never know, because even though "barring a disaster" makes it sound like it's close to being a done deal, there's no MLB team that pulls off disasters quite like the Rangers.